Starters
(V) Vegetarian (VG) Vegan (GF) Gluten Free
Tomato, onion, cilantro, garlic and lime juice. With corn tortilla chips
Crunchy corn tortilla chips with homemade chunky sauce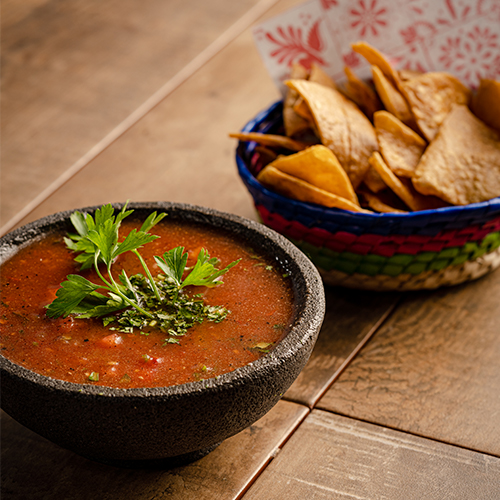 Flour tortilla filled with our 3 cheese blend. With pico de gallo, sour cream and homemade guacamole on the side

To choose:

– Cheese
– Carne asada
– Grilled Chicken
– Shrimp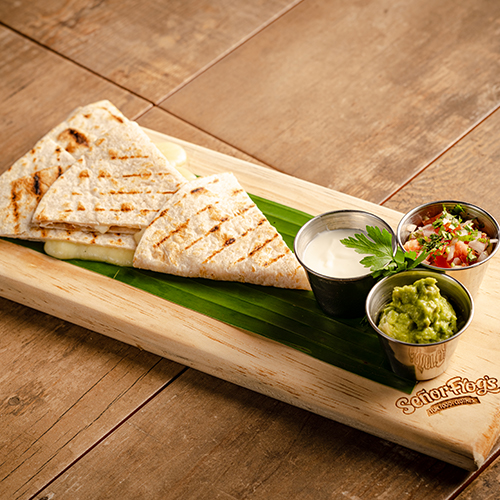 3 cheese blend and pico de gallo. With corn tortilla chips

To choose:

– Jalapeño
– Chorizo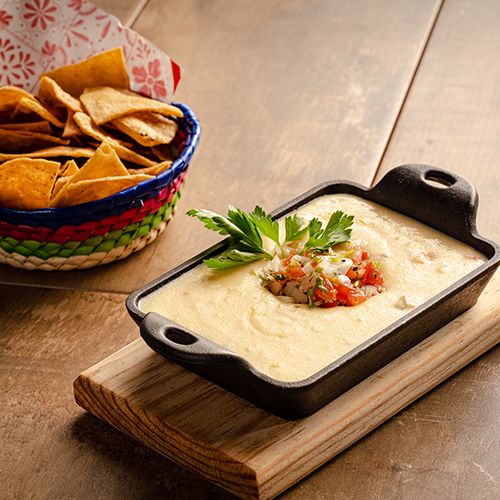 OFF THE COB with mayo, queso fresco, spicy Tajin® and lime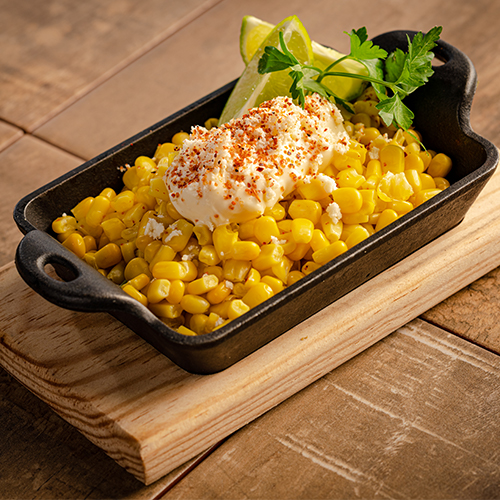 Crispy jalapeños stuffed with cream cheese, served with ranch dressing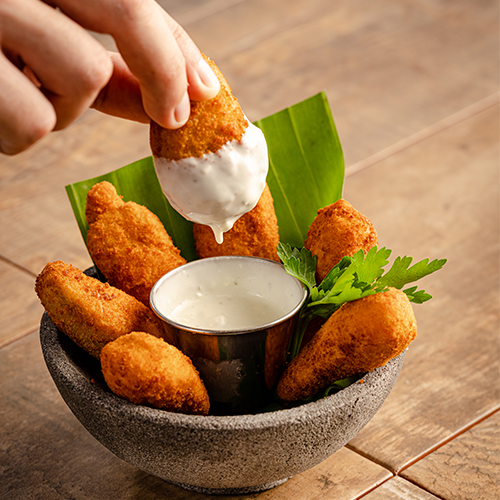 Homemade corn tortilla chips with refried beans, 3 cheese blend, queso fresco, sour cream, jalapeños, guacamole and pico de gallo

To choose:

– Cheese
– Carne asada
– Grilled chicken
– Shrimp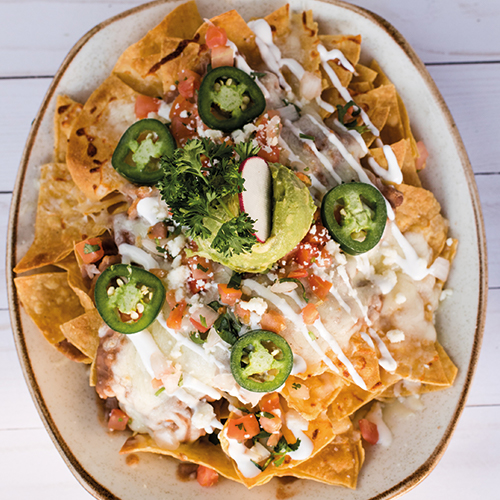 Crispy wings with carrots, celery sticks and ranch dressing

Sauce of your choice:

– BBQ
– Chipotle BBQ
– Buffalo
– Mango habanero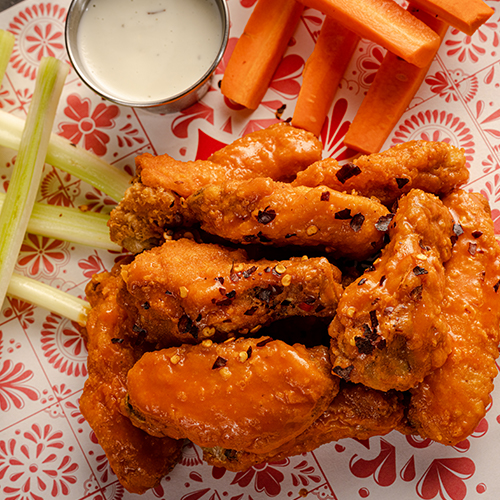 Crispy boneless wings with carrots, celery sticks and ranch dressing

Sauce of your choice:

– BBQ
– Chipotle BBQ
– Buffalo
– Mango habanero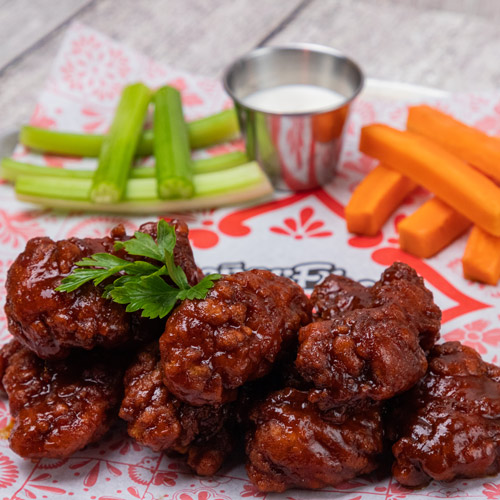 With carrots, celery sticks and ranch dressing

Sauce of your choice:

– BBQ
– Chipotle BBQ
– Buffalo
– Mango habanero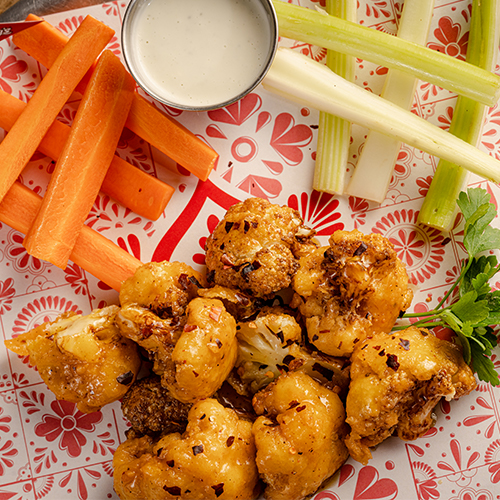 Shrimp in our traditional tomato sauce, cucumber, pico de gallo, avocado and lime. With saltine crackers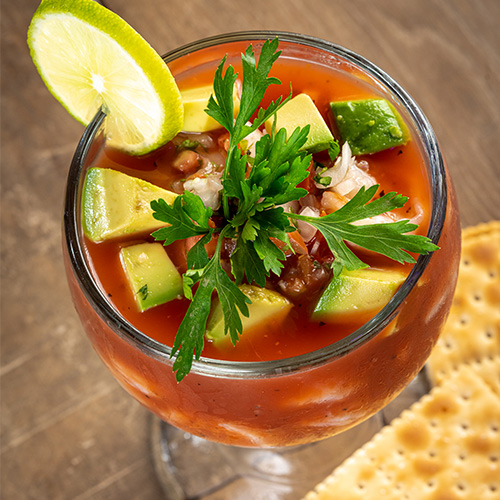 With corn tortilla chips

HOUSE: Red onion, tomato, cilantro and house special sauce

TROPICAL: Fresh mango salsa, red onion and cilantro

AGUACHILE: Red onion, jalapeños, cucumber and cilantro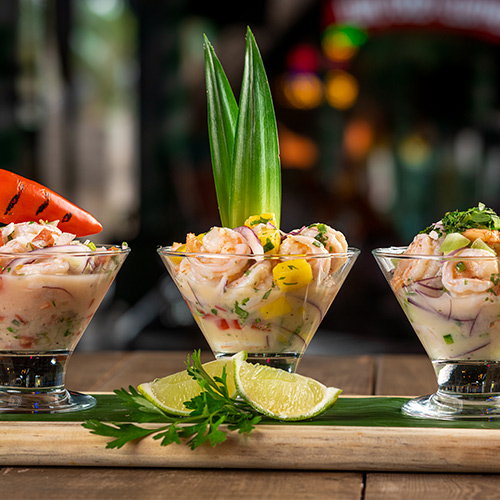 Delicious mix of cheese quesadillas (4 pcs), chicken taquitos (4 pcs), buffalo or BBQ wings (8 pcs) and jalapeño poppers (4 pcs), with carrots, celery sticks and homemade ranch dressing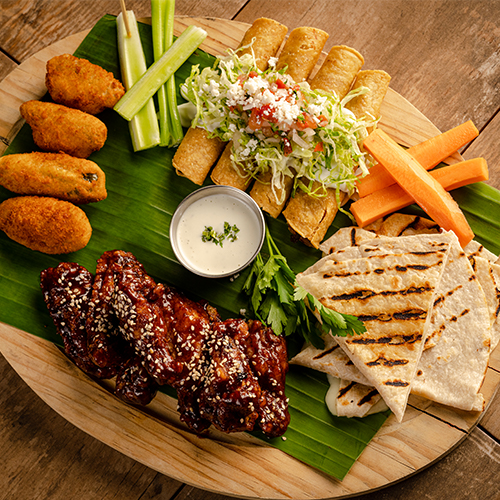 With chicken, guacamole, sour cream, pasilla sauce, lettuce, pico de gallo and queso fresco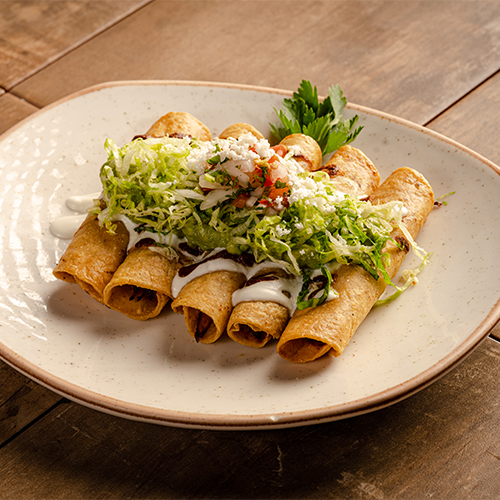 Corn tortillas with pulled chicken, 3 cheese blend, sour cream, onions and queso fresco. With rice and refried beans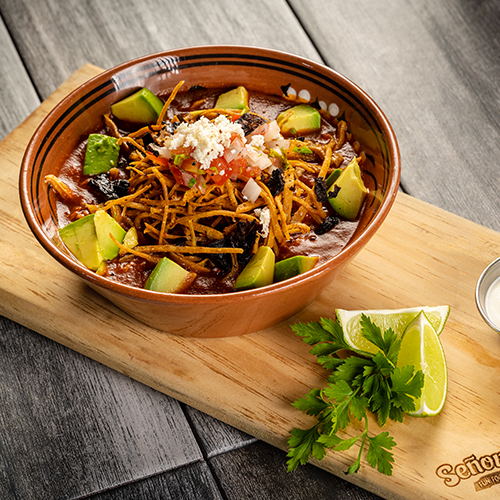 Lettuce, parmesan cheese, croutons and homemade Caesar dressing

Add:

– Grilled chicken
– Shrimp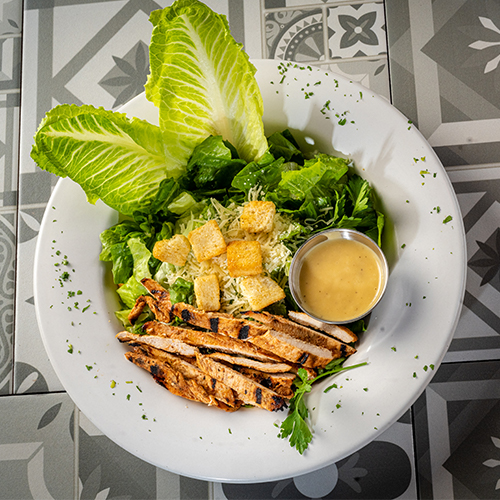 Lettuce, tomatoes, red onion, queso fresco and bacon. With blue cheese dressing

Add:

– Grilled chicken
– Shrimp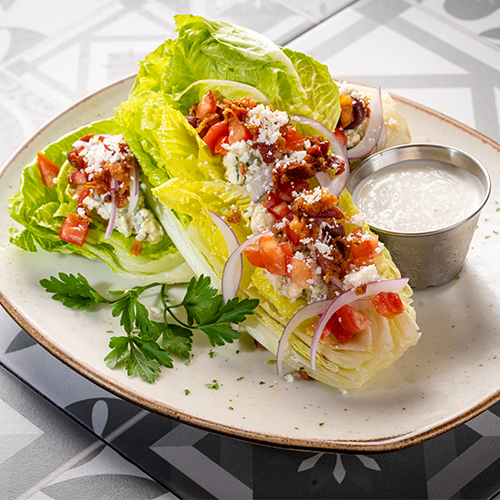 Crispy flour tortilla, beans, rice, lettuce, pico de gallo, guacamole, queso fresco and chipotle dressing

Add:

– Grilled chicken
– Shrimp
– Carne asada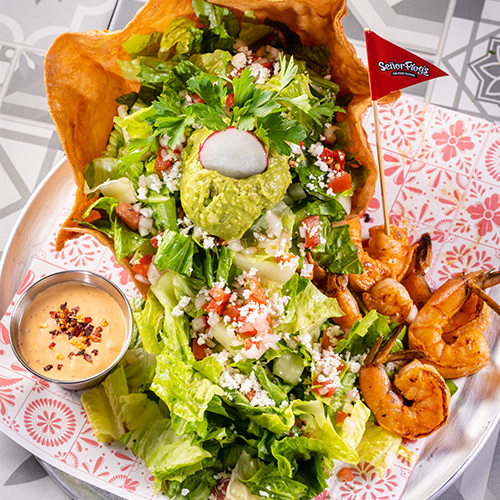 Lettuce, cucumber, mango, peppers, cilantro and sweet pecans

Add:

– Grilled chicken
– Shrimp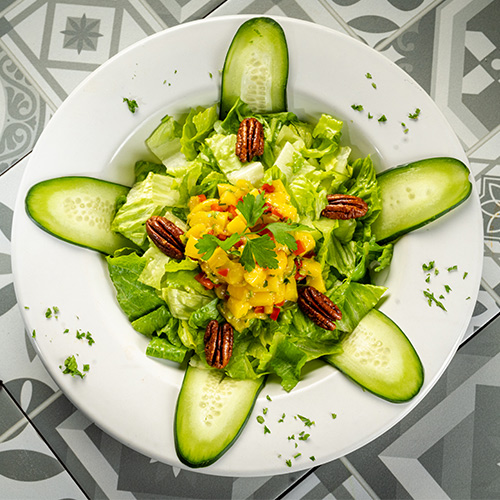 Corn tortillas stuffed with pulled chicken. With 3 cheese blend, sour cream, queso fresco, rice and refried beans

Topped with your favorite sauce:

– Red
– Green
– Mole sauce (Dried chilli, nuts, seeds and chocolate)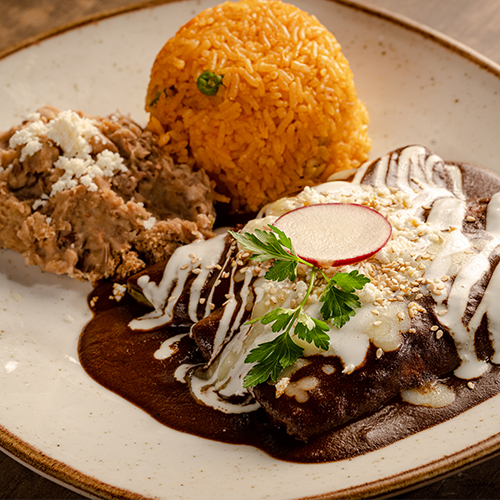 With guacamole, onions, peppers, pico de gallo, sour cream, refried beans, Mexican rice and corn tortillas

ADD CHEESE FOR $4

To choose:

– Mix of veggies
– Chicken
– Carne asada
– Shrimp
– Trio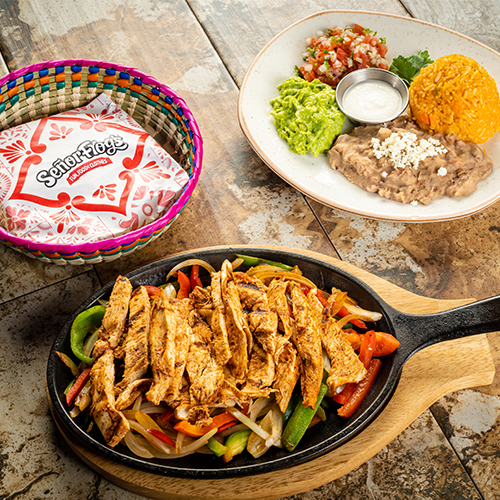 Tacos

In corn tortillas chips / 3 pcs
Guacamole, mushrooms, poblano chili, grilled onions and corn, with pico de gallo, queso fresco and lime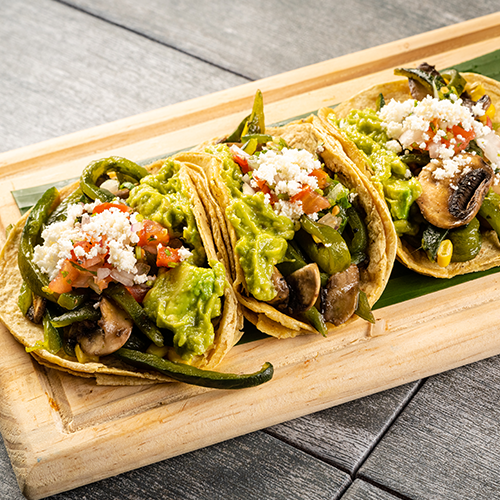 Marinated carnitas with guacamole, pico de gallo and lime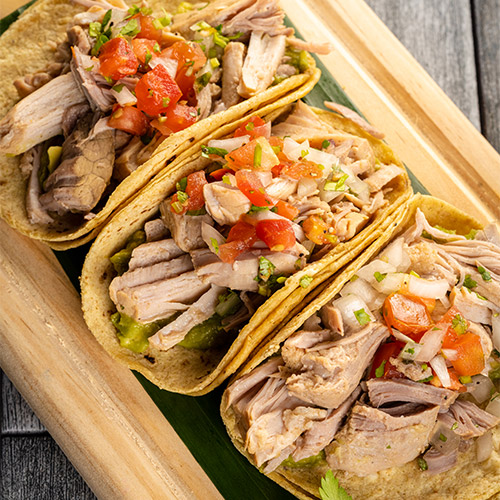 Achiote marinated braised pork with pickle onion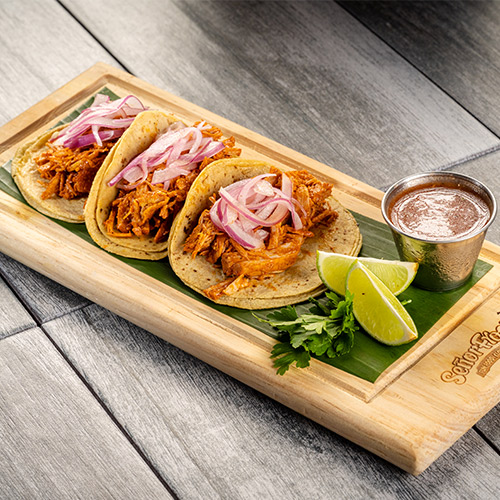 With pico de gallo and lime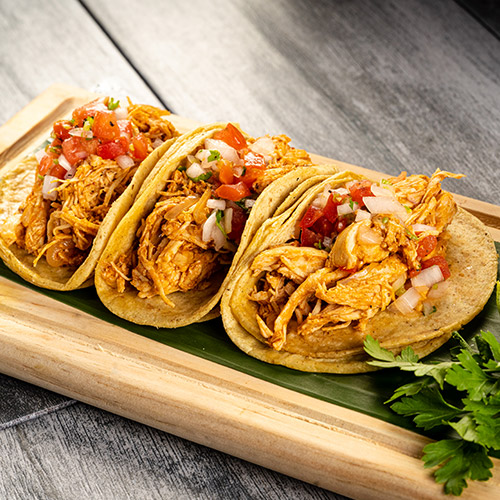 With guacamole, chipotle dressing, cabbage, pico de gallo and lime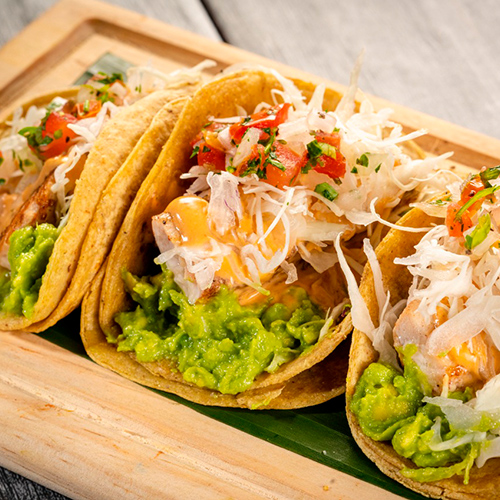 Seasoned shrimp with guacamole, chipotle dressing, cabbage, pico de gallo and lime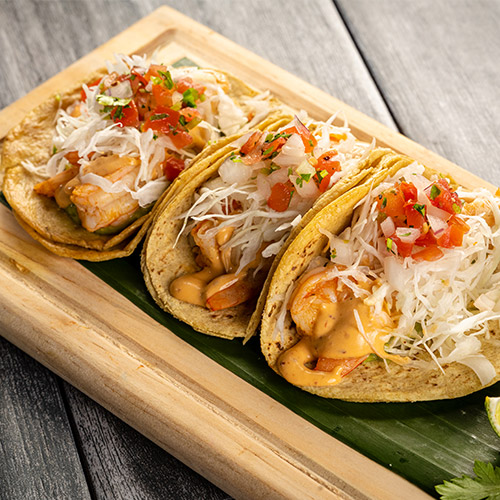 With guacamole, cilantro, onion and lime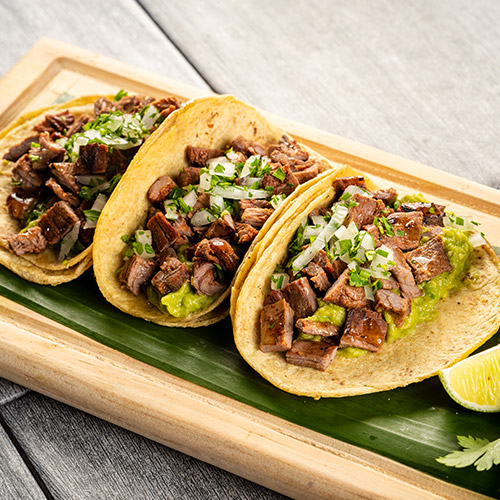 Filled with our 3 cheese blend and homemade birria (beef). With consomme (soup), cilantro, onions and lime
Burgers & SANDWICHES

Served in a brioche bun. With potato wedges
Juicy beef patty, 3 cheese blend, bacon, grilled seasoned shrimp, lettuce, onion, tomato and chipotle sauce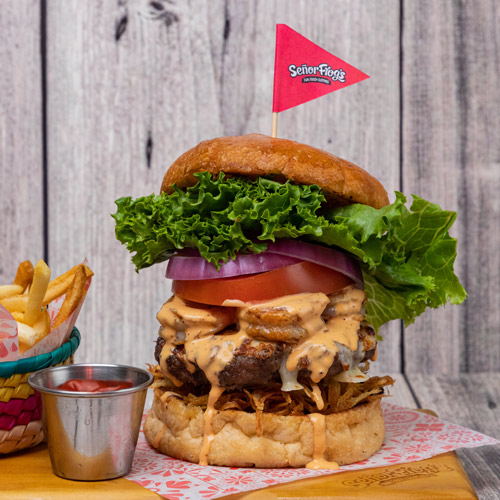 Juicy beef patty, 3 cheese blend, bacon, lettuce, onion, and tomato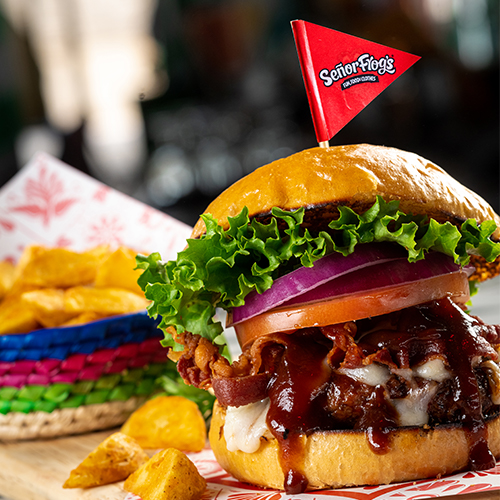 With beef fajitas, 3 cheese blend, guacamole, grilled peppers, onions and chipotle dressing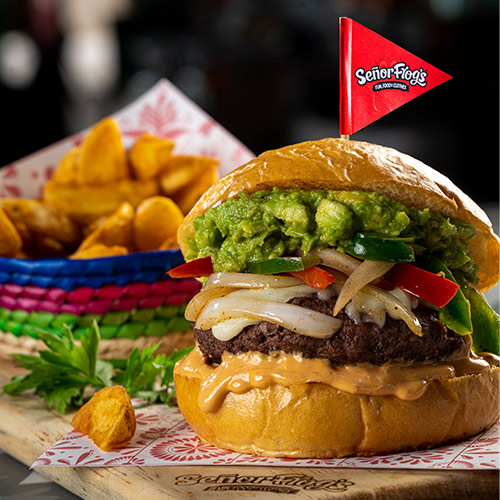 Breaded or Grilled Chicken Breast dipped in buffalo sauce, blue cheese, lettuce, onion and tomato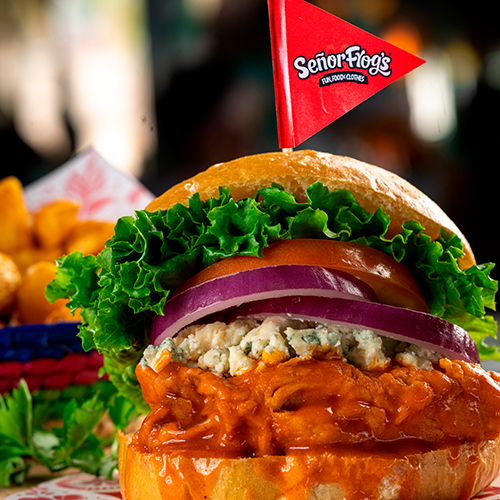 Juicy beef patty, 3 cheese blend, topped with creamy mac & cheese and fresh marinara sauce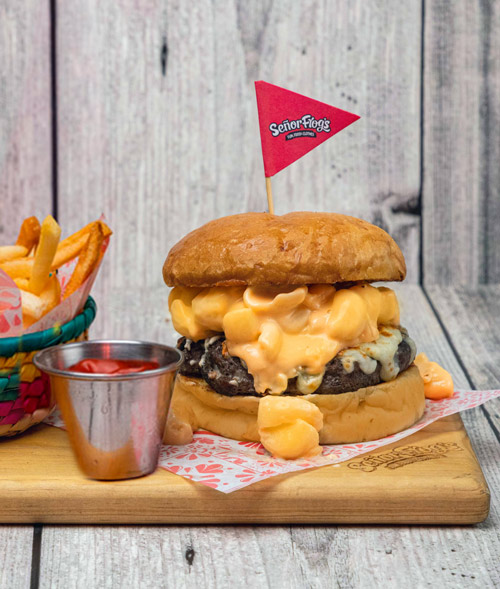 Juicy beef patty, 3 cheese blend, bacon, pulled pork, BBQ sauce and crispy onions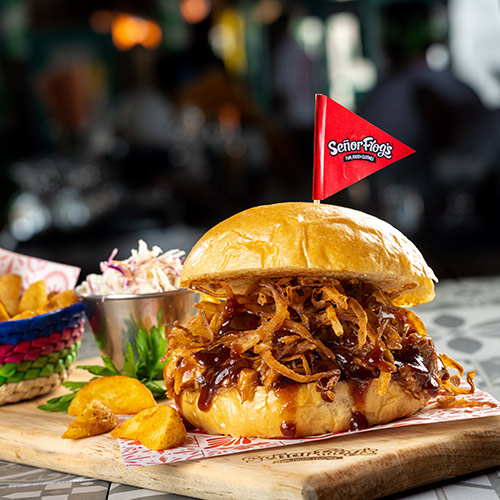 Juicy beef patty, 3 cheese blend, bacon, fresh sliced pastrami, lettuce, onion, tomato and honey mustard sauce
With guacamole, beans, pico de gallo and jalapeños, served in ciabatta bread. With potato chips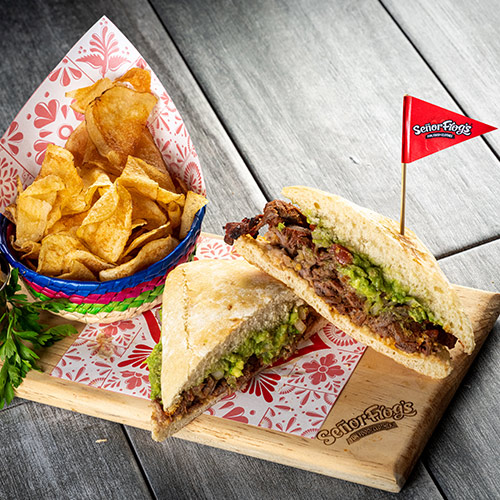 Slow braise pork, refried beans, guacamole, pico de gallo and jalapeños, served in a ciabatta bread. With potato chips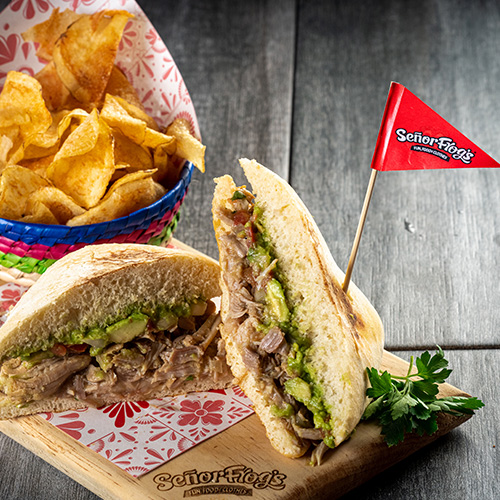 Achiote marinated pork, refried beans, citrus red onions, served in a ciabatta bread. With potato chips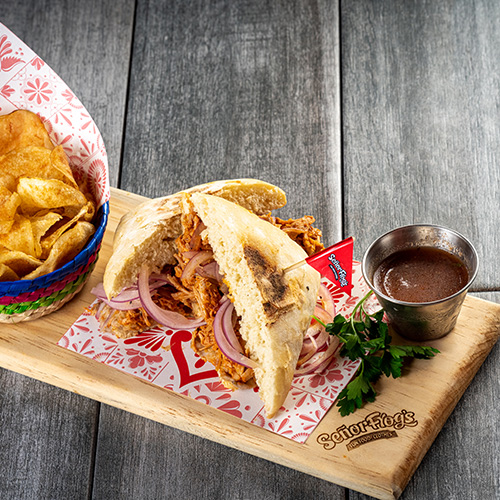 Topped with fresh tomatoes, slaw and chili mayo, served in ciabatta bread. With potato chips
Topped with fresh tomatoes, slaw and chili mayo, served in ciabatta bread. With potato chips
Warm flour tortilla, 3 cheese blend, guacamole, refried beans and pico de gallo. With morita sauce and potato chips

To choose:

– Veggie with mexican rice and mushrooms
– Chicken with mexican rice
– Carnitas with mexican rice
– Carne asada with mexican rice
– Shrimp with white rice and chipotle ranch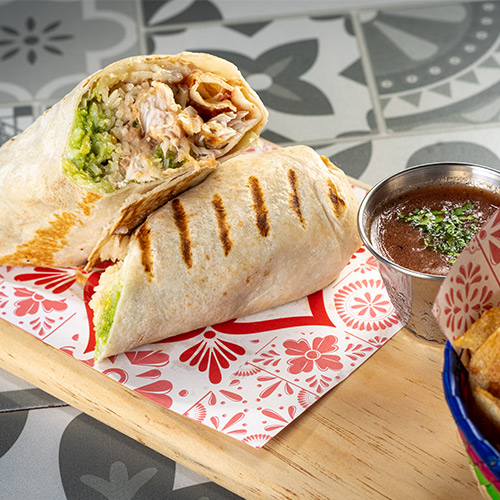 Pork carnitas with Mexican rice, refried beans, queso fresco, guacamole, pico de gallo, jalapeños and corn tortillas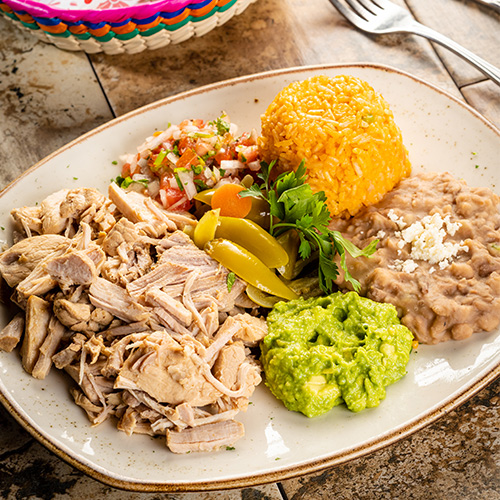 Pulled chicken, with homemade mole sauce, toasted sesame seeds, refried beans and Mexican rice and corn tortillas (GF)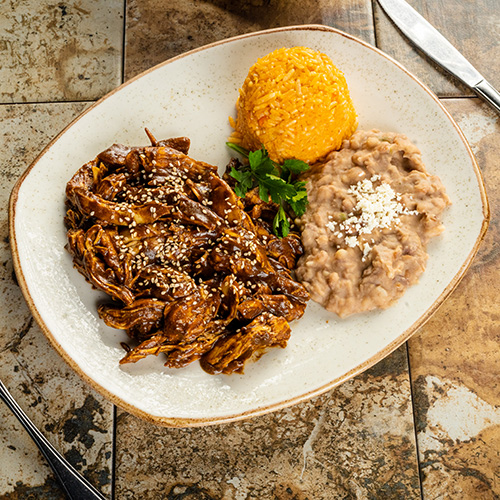 Achiote marinated pork with citrus red onion, Mexican rice, refried beans and corn tortillas (GF)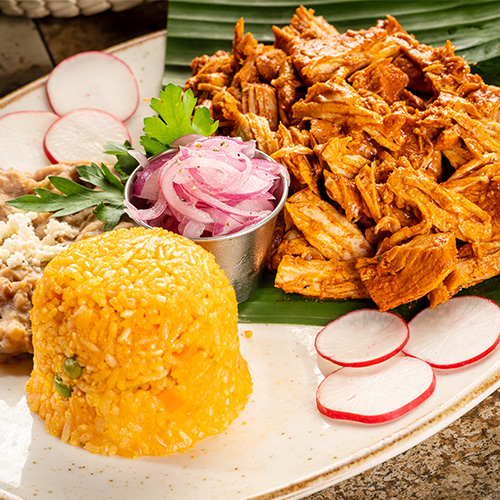 Refried beans, queso freco, Mexican rice, guacamole, pico de gallo, green onions, grilled serrano peppers and corn tortillas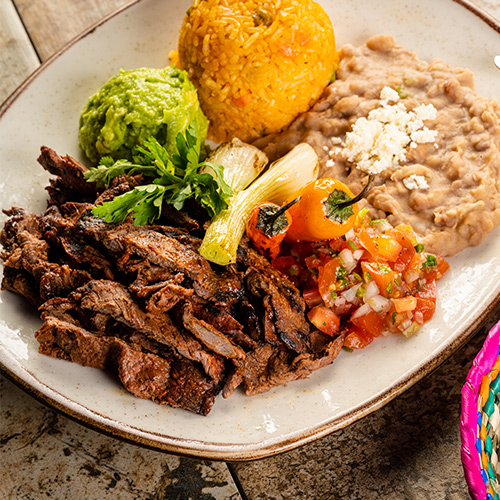 Fresh grilled chicken mixed with bell peppers, onions and covered in our chipotle cream sauce. With Mexican rice, refried beans and corn tortillas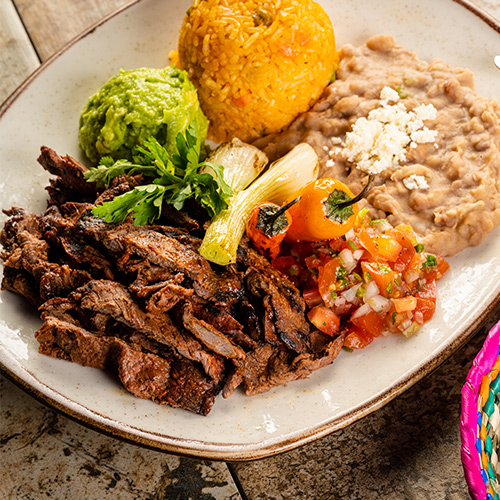 Tender pork ribs, glazed in delicious BBQ sauce. With coleslaw, grilled corn and wedge potatoes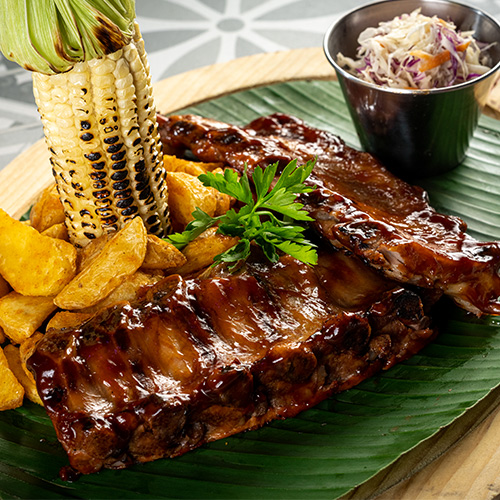 Half chicken glazed in delicious BBQ sauce. With coleslaw, grilled corn and wedge potatoes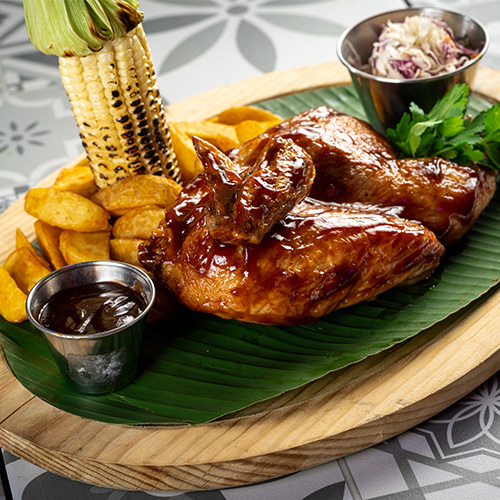 Shrimp glazed in delicious BBQ sauce. With coleslaw, grilled corn and wedge potatoes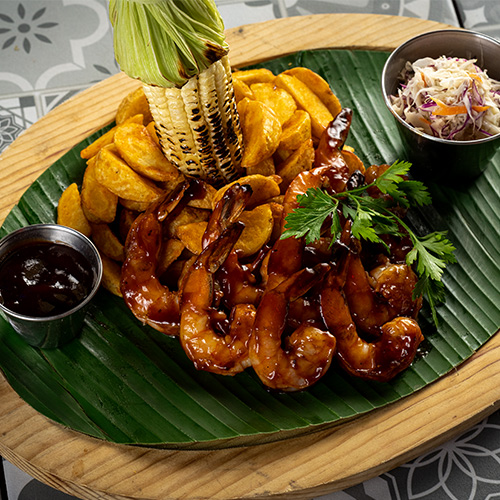 Tender pork ribs, roasted chicken and grilled shrimp, glazed in delicious BBQ sauce. With coleslaw, grilled corn and wedges potatoes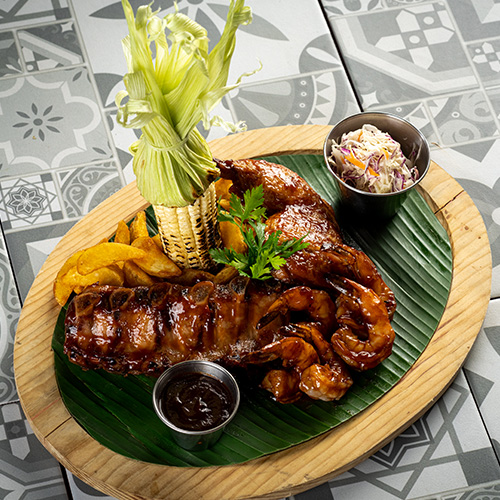 Cooked on a cedar plank. With white rice, vegetables and chipotle honey sauce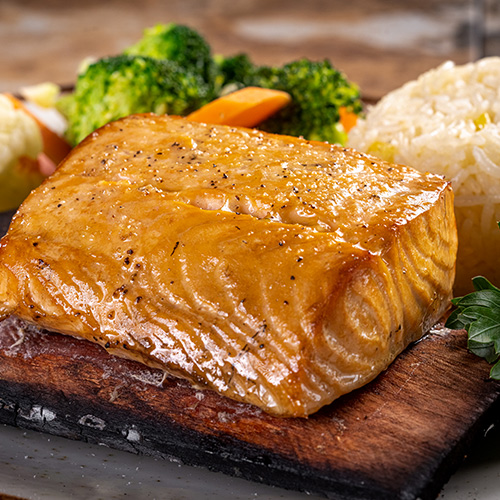 Sautéed in butter sauce, garlic and cilantro. With white rice, fresh cut veggies and lime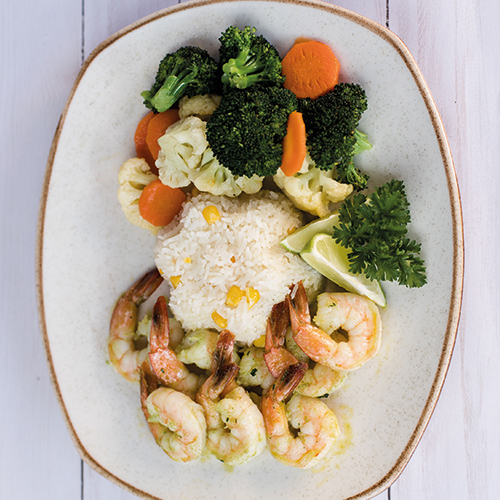 Sautéed in butter sauce, garlic and chipotle. With white rice, fresh cut veggies and lime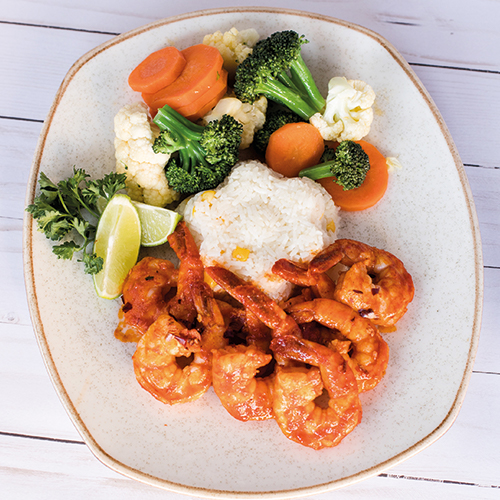 Grilled mahi mahi with special mango sauce, peppers, cilantro and mango. With white rice and lime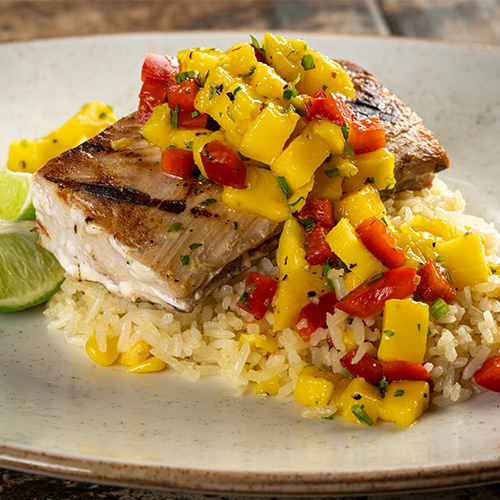 Grilled pineapple with shrimp, peppers and onions sauteed in our homemade sauce, and topped with 3  blends and special mango sauce (GF)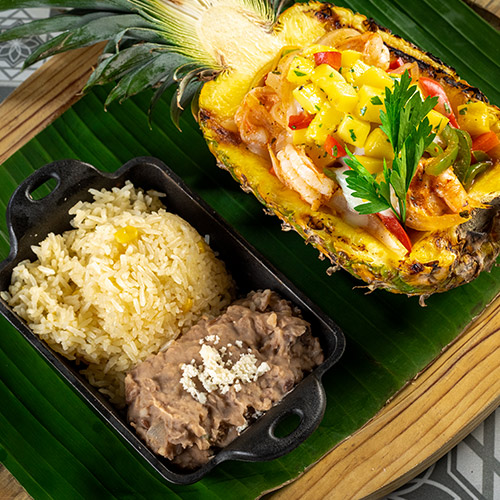 Fettuccini noodles in creamy Alfredo sauce with mushrooms, garlic bread and parmesan cheese

ADD:

– Chicken
– Shrimp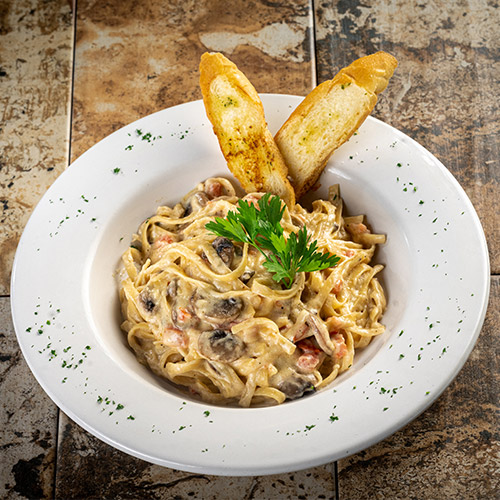 Rice, refried beans, 3 cheese blend, fresh pico de gallo, homemade guacamole, queso fresco and chipotle- ranch dressing To choose: Veggie with mexican rice Chicken with mexican riceCarne asada with mexican rice Carnitas with mexican rice Carne asada with mexican rice Shrimp with white rice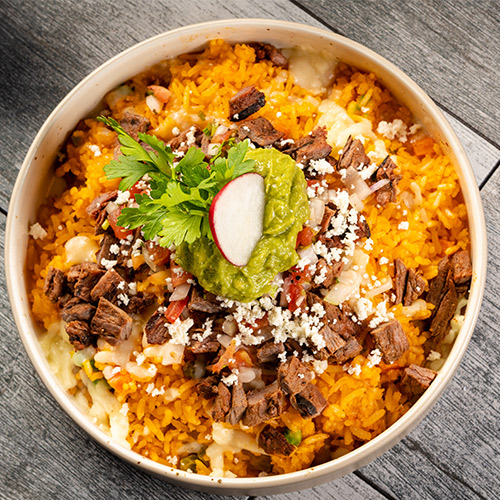 Tossed in our homemade chipotle ranch, topped with queso fresco, tajin and cilantro. Served with lime wedges and chipotle ranch on the side
Blackened Mahi-mahi Tacos
Served in a flour tortilla, topped with chipotle ranch, fresh slaw, and corn mix. Served with lime wedges and morita sauce.
Penne pasta with; Cajun sauce, bell peppers, onion, garlic and parmesan cheese. Served with toasted crostinis.
Homemade creamy key lime pie made with graham cookies. Topped with whip cream and lime.
With lettuce, sour cream and queso fresco. With potato chips
With sugar and cinnamon, homemade chocolate sauce and caramel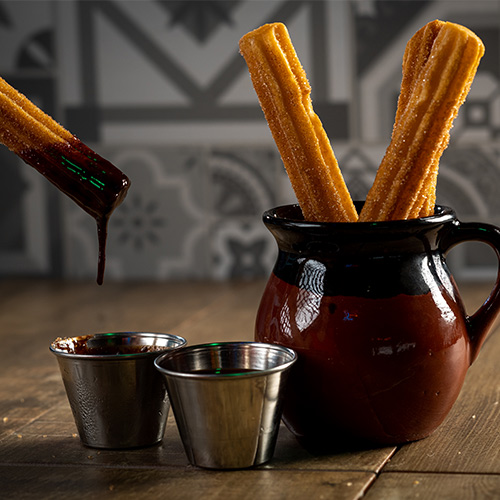 With whipped cream, Ferrero Rocher® , marzipan and waffle cookie straws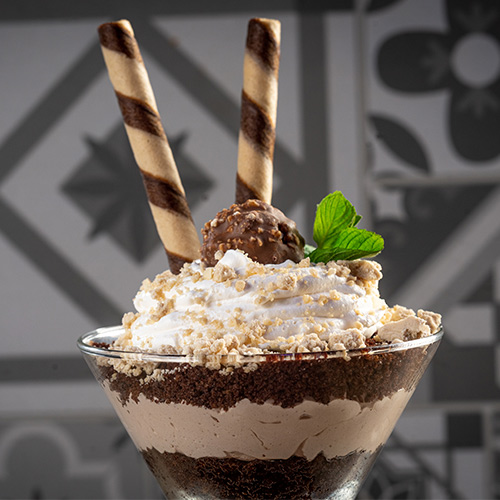 Strawberries, sweet cream, topped with whipped cream and cinnamon sugar (V)
Homemade vanilla cake with tres leches milk and rum. Topped with whipped cream and freshly cut fruit